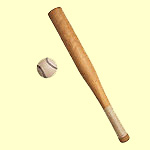 The Manuden Ladies Rounders Team play in a local league most Tuesday evenings from late spring, through the summer until early autumn. Home games are played on the Manuden Playing Fields.


If any ladies are interested in playing this, the original bat, ball and base game please contact :-


Rachael Mardell 07748 814577




Played in England as long ago as the 16th Century and probably having its roots long before that, Rounders is still a popular pastime in the U.K. The game went to America with the Pilgrim Fathers and after undergoing many rule changes throughout the 19th Century it emerged as the rather long winded affair that they call Baseball.